Free Read
LNG Journal is the longest-standing magazine in the LNG industry, with over 700 leading companies subscribed to our services, the LNG journal is a must read source for analysis, news, prices and information in the liquefied natural gas industry. The journal's comprehensive coverage is dedicated to the entire LNG value chain; from technological innovation in the engineering sector to project financing to market trends to LNG shipping operations.
Publications Include

LNG Journal

Monthly - Online + optional print magazine

LNG Unlimited

Online every Tuesday + PDF

Gas To Power Journal

Online every Friday + PDF

LNG Market Tracker

Online every Wednesday + PDF

LNG Shipping News

Online every second Thursday + PDF

LNG Monthly Markets

Online Monthly + PDF

LNG China

Online every second month + PDF

LNG North America

Online every second month + PDF

LNG Fuelling

Online every quarter + PDF

Daily Updates

and Newsletters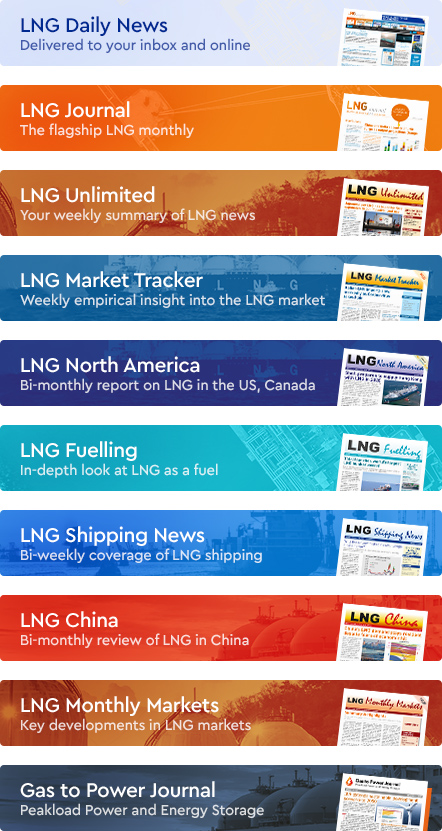 Online Only

Online & Print

USERS

1

2

3

4

5

6

7

8

9

10

CORPORATE
Different multi-user options are available on request.
GBP price UK only -- EUR price Europe only -- US$ price Rest of the World.
Subscription Contacts

For new subscriptions or general subscription queries please contact:
Stephan Venter
+44 207 017 3407
venter@lngjournal.com
To renew an existing subscription or to upgrade your package, please contact:
Gabi Weck
gabi@lngjournal.com
Alternatively, download the subscription form and email to subs@lngjournal.com.
* DEFINITION OF USERS: Access to the LNG journal is supplied on a single user, single license basis. Each user license entitles one individual to use their personal login details for their personal use only. This user may not share their login details with other individuals. For print and online subscriptions each user receives an individual printed copy of the LNG journal in the post. User may print a copy of the PDF edition for personal use only ** The LNG journal magazine is published 10 times per year with occasional special editions. *** The LNG unlimited weekly newsletter is published weekly 32 times per year.